"Thank you so much for booking on to our Creative Writing Workshop at Abriachan Forest Trust tomorrow (March 13th). Please bring your usual writing materials (be that pad and pen or laptop) and some warm/waterproof clothing in case we want to take a wander round the grounds for inspiration."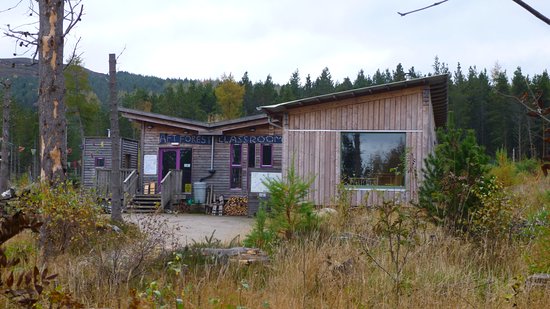 It's not the first time I have been to Abriachan Forest and written poetry in the forest classroom. It's not the first time either that I have driven up the steep hill with its winding road, single track and passing places. It's not the first time I missed the turning and had to turn around. I was the first time that I have taken a travel sick friend with me and pulled over into farm gateways for fresh air stops every so often.
The warm and waterproof clothing was not required. It was wet and windy and no one suggested a walk around the place for inspiration. We had all we needed with poems to oil the creative wheels, a warm stove blasting out heat, a pot of tea and a tin of biscuits.
The workshop – the
Jessie Kesson
Workshop began at 2.00.
It was lead, not by Jessie, but someone who had won an award and is poet in residence at Moniack Mhor Writing Centre just outside of Inverness.
Extracts from "The Wild Bird Passes" provided our first task – picking phases from her work and weaving them into our own prose or poetry.
I reach the dark heart of the forest. Trees crowd together, shoulder to shoulder, blocking out light. The air tastes dry and musty. Ancient trees, not willing to bow, loom high. There's little colour, no bright green of moss, no red flash of wild flower. Brown parades a thousand shades. And silence – no bird song erupts in the quiet, only the low moan and slow creak of trees as the air stirs.

Unseen eyes watch and a vague sense of threat strokes my skin.
I might read a lot of poetry, and write a lot, but I don't always understand it. We read through "The Wood Pile" by Robert Frost. It's set in a forest. There's a bird flying about. There's a wood pile. It's not a recently felled tree chopped up. I have seen enough woodpiles in my time, in various forests dotted about the Inverness district. It didn't really occur to me to question why the wood pile was apparently forgotten. Other workshop attendees suggested the woodcutter had died. Here's my take on it:-
The Wood-Pile
This wood pile,
One of many,
Not forgotten,
But seasoning,
Dreams of the table,
The chair, the crib
In the next life
Craft, the best of
Skill and fashioning
Takes time
Patience and waiting
Too soon
Too new from the felling
And the wood splits
And splinters
But the waitng,
Waiting, waiting
Seems endless
There's a second verse which I like less and will work on, maybe. In it another wood pile dreams of a fire and flames and a stove. I'm not sure it's needed or adds anything to the poem. The thing about poetry is that you can give a voice to things that don't have one.
Our third prompt was from Sorely MacLean's poem "Hallaig". There is something that I find stirring about Gaelic – both written and read. There was no one to read the Gaelic version. Yet again I'm not sure I understood what was going on. There were lots of place names, and people names with too many consonants and not enough vowels but we stumbled through them.
Writing from the viewpoint of tree was a challenge. What do trees see? What changes do they live through? What commentary might they make of the short life span of fleeting forms?
I'm not posting my poem. Polished up a bit, it might be submitted to a competition. I loved the work of some of the other writers there. My friend, my travel sick companion, wrote a lovely poem. The tree, standing tall, was thinking about the seeds it had sent out, whether it had sired a forest or not.
It was a good couple of hours, not too many people to make you feel threatened, not too few to make you wonder why no one else was there. It was a comfortable environment to share and everyone was very encouraging. There was talk of setting up a regular creative writing group at Abriachan. Count me out. Much as I love poetry, I don't love winding uphill roads, single track with passing places.
The homeward journey was easier to navigate but we stopped often to settle unsettled stomachs along the way.
I'm not sure if the unsettled stomachs are indicative of bad driving, bad roads or bad digestive systems – or a combination of all three. Keeping up a conversations didn't seem to help.
It was nice to let someone else lead a workshop. Saturday is looming and Breathe Writers are meeting at the Bike Shed. Pencils and paper at the ready…