The radio in the car switches between Radio 2 (for the Breakfast Show with Chris Evans), Radio Scotland (for the local news) and a medium wave channel that covers football matches.
Yesterday it was on Radio 2 with Graham Norton and a guest. A listener had either phoned in, or twittered, or e-mailed or written in to share an experience. Apparently a new person had started at her office and the two of them shared a train journey to get to work. At first the woman quite liked the company and the conversation. After a week or two, the woman realised that it was basically the same conversation each morning. Obviously not happy in her marriage, the new person settled down each morning to criticise her husband.
Graham Norton and the guest were invited to give advice on what to do about it. I have no idea who the guest was. Her advice was to take a later train, or an earlier one, so as to avoid sitting next to the woman.
Graham's advice was to tell the woman straight that she needed to stop criticising her husband. If things were so bad between husband and wife may be they ought to think about separating. She didn't need to be cruel about it, or aggressive, but simply not put up with being someone else's dumping ground for what was wrong in their life. It was time to encourage the person to move forward, move on, and make changes and climb out of the rut.
I have been thinking on and off about the comment about Enoch in the book of Genesis.
"Enoch walked faithfully with God; then he was no more, because God took him away." Genesis 5:24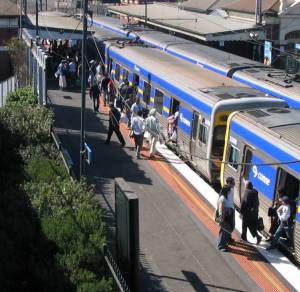 Imagine if it wasn't walking, but taking the train every morning to work(for 300 years?). Suppose God was sitting next to Enoch and the two of them talked. How soon might God have decided to get a later train, or an earlier one, if all Encoh did each morning was regurgitate the same conversation bemoaning his lot in life, or pointing out the faults of fellow passengers or just complaining about the price of a season ticket on the train?
What was it about Enoch that made God allow him, encourage him, invite him to walk beside him each day?
I think there might have been days when Enoch might have bemoaned his lot in life, or pointed out the faults of fellow passengers or just complained about the price of, not exactly a season ticket on the train…but something. Enoch was a human being. If that is all he did I am not sure that God would have enjoyed their time together…and you kind of get the impression that He did.
Maybe it wasn't so much about what Enoch said at all, but about what God was able to say to Enoch and how Enoch responded. God found in Enoch someone who would listen to Him.
It challenges me to know that God allows me, encourages me and invites me to walk beside him each day. The Bible says that I can cast all my cares upon God because he cares me for me – so, I can, to some extent, make God the dumping ground for all that is wrong in my life.
If that was all I did, I am not sure that God wouldn't want to take the later train to avoid me some days!
God has so much to say to me moving forward, moving on, making changes and climbing out of my ruts. He would like to find in me someone who will listen to Him and respond.
Does he?